Employer branding power hour met James Ellis
In aflevering 30 van 'Hier is AMC' heb ik James Ellis te gast. En daar ben ik erg blij mee, want ik vind hem een van de meest interessante sprekers over employer branding van dit moment. Strategisch gezien brengt hij het erg helder, en hij koppelt het aan de dagelijkse praktijk. Met lekker veel humor. Hij is Chicago-based en host van de podcast 'The Talent Cast', met inmiddels al meer dan 175 afleveringen. Maar hij doet veel meer. Verstuurt o.a. iedere week een erg goede nieuwsbrief over employer branding. Ik heb in mijn podcasts al regelmatig naar hem verwezen. Dus ik vond het erg mooi om hem nu in levende (digitale) lijve te spreken. Zo veel mogelijk mensen in het Nederlandse en Belgische vakgebied moeten van hem gaan horen.
James noemt zichzelf employer-brand-nerd. Ik denk dat ik ook wel voor die omschrijving in aanmerking kom. Dus dat gesprek liep wel.
We lopen samen door de basics van employer branding heen. Ik gooi er een paar kwartjes in, James klimt op de spreekstoel en beschrijft het vak prachtig. Voor ervaren employer branders zitten er mooie uitspraken en beschouwingen in, voor nieuwkomers is het een aangename stoomcursus employer branding.
Om je een voorproefje te geven van het gesprek, schets ik hieronder de vragen die de basis vormen voor het gesprek, en een aantal mooie quotes die in het verhaal van James zitten. Ik maak daarvoor wel de switch naar Engels. Want het interview is in het Engels:
In our conversation, we discuss the basics of employer branding. To give you a first impression, these are the questions I fired at James:
What's your definition of employer branding?
What's the core of an employer brand?
Is Covid-19 just an interruption or a drastical change?
In what direction has employer branding been developing in the recent years?
Is employer branding only for large employers?
As a small company, why do I need employer branding?
What's the difference between an employer brand person and a recruiter?
As an employer brander, how can I prove that what I'm doing is working?

With these questions we have an inspirational conversation on employer branding. As always, James has some remarkable quotes. As a preview, in random order, I have retrieved some of them:
"Employer branding and recruitment marketing are special. All other forms of marketing are about 'more'. Employer branding and recruitment marketing are about quality, we have only one of things."
"I think of employer branding more philosophically than strategically. You can't beat Google. You can't be Google. You've got to be the best 'you' there is."

"In the last 5 years, the streams seem to have crossed. The best things in recruitment marketing technology are happening on your side of the world, some of the most interesting employer brand thinking is happening on my side of the world. We are inventing it clean, while you had 30 years of experience how you are supposed to do it. That seems to slow you down."
"When you hire a lot of people, bad hires happen, but don't need to have much impact. But when you are a small employer, bad hires kill companies."
"If you can name what you care about, line it up with what you reward, and then project that out to the world, you got yourself an employer brand."
"The conversation about culture at a company are much better than before Covid-19. 3 months ago culture was about beerpong, coldbrew, fussbal-tables and work from home on Fridays. Those are perks, not culture. Culture is what happens when everything else is stripped away. Then, Covid19 came, and everything else was stripped away. When things run bad, how do you respond? That's culture!"
"Crisis reveal who we really are. How do you know your culture when you haven't had a bad day in years?"
"Authenticity is a baseline. Don't lie! Got it. Next! 
How do you get to unique, to different, to special? That's where the real hard work happens."
"Employer branding is not about stuffing the funnel. It's not a recruitment function. It's a company function. It should engage with leadership, with HR, with sales. It should help tie all these things together. It's the connective tissue between all the individual organs, that are very good at that one thing they do. I want to know that the heart, lungs and kidneys etc. are all connected in some way.
<Dan nu weer naar het Nederlands voor de afsluiting>
Hopelijk prikkelen deze quotes voldoende om het hele gesprek te luisteren. De youtube-versie staat in dit artikel. De links naar de podcast-plekken staan onderin. Abonneer je op de podcast, dan krijg je nieuwe afleveringen automatisch in je stream.
Als je meer wilt volgen van James Ellis, dan zijn er veel mogelijkheden. Hij maakt een wekelijkse podcast, een wekelijkse nieuwsbrief, heeft 2 boeken over employer branding geschreven en later in 2020 volgt er nog een. Alle informatie staat bij elkaar op zijn site: www.thetalentcast.com. Voor mij is het een mooie bron van zeer kwalitatieve informatie. (Ik krijg geen sponsorbijdrage hiervoor, ik meen het echt.)
Thanks a lot, James. It really was a blast!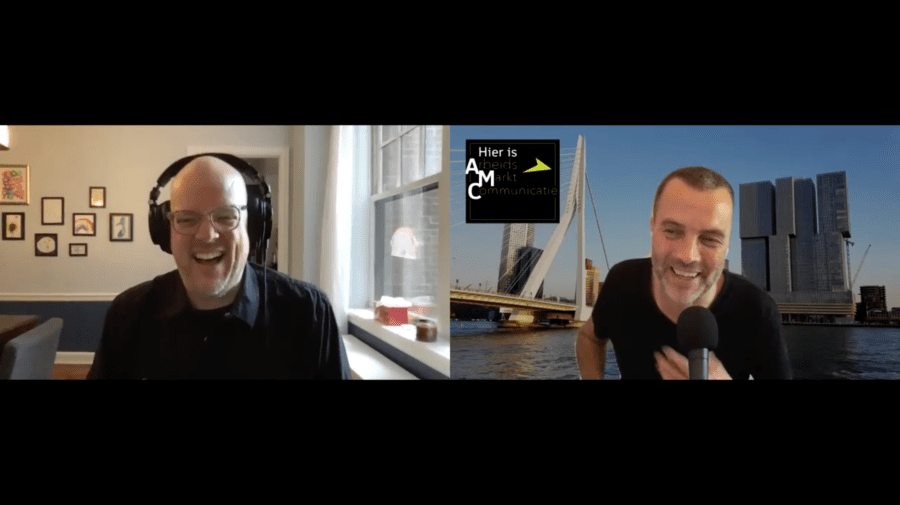 'Hier is AMC' is een serie interviews waarin ik (Marcel van der Quast) het vakgebied arbeidsmarktcommunicatie in de schijnwerpers wil zetten. Door met verschillende mensen te spreken die aan AMC, employer branding of recruitment marketing doen of wat ook maar in de buurt ligt doen, gaat er een serie ontstaan die de breedte van het vakgebied laat zien. En hoop ik zo veel mogelijk mensen enthousiast te maken voor dit vakgebied. 
Je kunt je abonneren op de podcast via iTunes, Spotify, Stitcher en Soundcloud. Of op elke andere plek waar jij je podcasts ophaalt. Voor iedereen die (nog) niks doet met podcasts, staan alle interviews ook op Youtube. 
Blog geschreven door Marcel van der Quast
https://hr-communicatie.nl/wp-content/uploads/2020/07/HIAMC-Afl-30-HR-Communicatie-hoofdbeeld-.jpg
848
2544
Redactie HR & Communicatie
https://hr-communicatie.nl/wp-content/uploads/2017/03/logo-hrcommunicatie-300x77.png
Redactie HR & Communicatie
2020-08-17 19:30:49
2022-08-10 17:28:47
Employer branding power hour met James Ellis